My Blog
Posts for tag: dentures
By Crestwood Dental Group
October 19, 2012
Cleaning dentures is an important part of wearing them. However, did you know that recent research has revealed a link between denture hygiene and overall health? The evidence shows that oral bacteria have been implicated in chronic obstructive pulmonary (lung) disease, bacterial endocarditis ("endo" – inside; "card" – heart), generalized infections of the respiratory tract and other systemic diseases. While it is never our intent to frighten you, we feel it is important that we share some important tips on maintaining and caring for your dentures so that your oral health does not negatively impact your general health.
Our first tip focuses on fit, as denture slippage is an experience that anyone who wears dentures dreads. So if your dentures seem to slip or you have started increasing the amount of adhesive you are using to achieve the same level of denture retention that you had when first fitted, you need to make an appointment with us soon. Otherwise, an ill-fitting denture can cause discomfort, embarrassment and contribute to other oral health issues.
Next, we must focus on cleaning your dentures. It is critical that you clean your dentures daily. However, you should never use harmful or abrasive cleansers. Nor should you ever place your dentures into boiling water! The best method for cleaning is to soak them daily in a non-abrasive denture cleaner. And when you remove them, gently brush them with a soft-bristled toothbrush.
Our last tip concerns how long you wear your dentures each day. Even if your dentures are extremely comfortable — for example, you forget they are in — you should not wear them 24 hours a day. Why? Because you will develop a chronic yeast infection called, "denture stomatitis" due to stagnation that develops under dentures when the lubricating and antibacterial effects of saliva are impeded. Unfortunately, the constant pressure on the gum tissues caused by wearing dentures can accelerate jawbone loss over time. Give your mouth and tissues a rest by sleeping without your dentures in your mouth.
To learn more tips, continue reading the Dear Doctor magazine article "Top Ten Tips For Denture Care & Maintenance." Or you can contact us today to schedule an appointment to discuss your questions.
By Crestwood Dental Group
January 13, 2012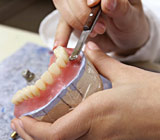 Even with all the medical know-how we possess at the dawn of the 21st century, complete tooth loss is still a big problem. In this country, more than a quarter of all adults between ages 65 and 74 have lost all of their teeth. For these individuals, removable full dentures are often still used as an affordable and effective way to replace missing teeth.
Success with dentures originates from a collaboration among dentist, laboratory technician, and, of course, the denture-wearer. Creating false teeth that look natural is as much an art as it is a science. We take a number of steps to make sure you will get the best results. These include:
Positioning the teeth. Using facial landmarks and photographs of how you used to look before your teeth were lost helps us determine where to place each tooth and how the upper and lower teeth should line up in relation to each other. For example, we will consider what size the teeth should be; how close to the lip they should be; and how much space should exist between the upper and lower teeth when they are at rest.
Simulating natural gums. If you are someone with a "high lip dynamic" (a lot of gum shows when you smile), it is particularly important to simulate real gum tissue in a set of full dentures. Fortunately, there are many colors and textures available to create a realistic effect. Again, photographs can be helpful in achieving this.
Balancing the bite. We must make sure that your upper and lower dentures come together in a way that facilitates normal biting, chewing, and speech.
As a denture wearer, you will need to visit our office regularly to make sure the gum tissue and bone upon which your dentures rest stay healthy. It's common to see a gradual loss of bone in people who wear dentures at a rate that varies from person to person. This bone loss can affect the fit of your dentures and lead to other health problems, which we can address if we are monitoring you on an ongoing basis.
If you have any questions about dentures, please contact us or schedule an appointment for a consultation. You can learn more about this topic by reading the Dear Doctor magazine article "Removable Full Dentures."
By Crestwood Dental Group
December 11, 2011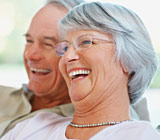 Whether you have worn dentures for years or they are new to you, knowing the proper way to care for them is critical. This is why we have put together this fun and insightful test so that you can see just how much you know.
After reading each of the following statements below, determine whether you think the statement is true or false. See below for the answers.
Boiling your dentures at least once a week is an excellent way to sterilize them.
With a proper fit, it is perfectly acceptable to wear your dentures continuously (24 hours per day).
The bacterial biofilm that accumulates under a denture causes inflammation referred to as denture stomatitis.
You should store your dentures immersed in water after cleaning or when not in your mouth.
Once you have dentures (and no longer have any teeth), you really only need to schedule a dental appointment if you have a problem with your dentures or damage them.
To best clean a denture, you should use a slightly abrasive cleanser and a firm toothbrush.
The pressure from wearing dentures causes jawbone loss over time.
The optimal method for cleansing your gums is to take a moistened washcloth and gently massage your gums two times each day.
If you are careful, you can use denture cleaners while your false teeth are in your mouth.
You should never use sodium hypochlorite bleach to clean your dentures.
Answers
1. False. You should never boil dentures. 2. False. You should not wear your dentures 24/7. 3. True. 4. True, as this prevents your dentures from warping. 5. False. Even though you may not have teeth, you need to visit our office at least once a year for a thorough examination and to ensure your dentures are fitting and functioning properly. 6. False. You should never use a firm toothbrush OR any type of abrasive cleanser to clean your dentures. 7. True. This is unfortunate, but a fact nonetheless. 8. True. 9. False, you should only use a denture cleanser outside of the mouth. 10. False. Sodium hypochlorite bleach is an excellent cleanser; however, you should never soak your dentures in this solution for periods that exceed 10 minutes.
To learn more tips, continue reading the Dear Doctor magazine article "Top Ten Tips For Denture Care & Maintenance." Or you can contact us today to schedule an appointment to discuss your questions.