My Blog
Posts for tag: orthodontics
By Crestwood Dental Group
November 26, 2013
The perception that orthodontics is mainly for children or teenagers is changing rapidly. The number of adults seeking treatment for misaligned teeth is on the rise, especially with the development of less intrusive treatments like clear aligners.
Still, as an adult you may be wondering if having your teeth straightened is really worth the effort. There are good reasons to consider orthodontic treatment even when your teen years are well in your rear view mirror — and improving your smile is only just one of them.
To be sure, smile enhancement is an important reason. We place a high value on presenting our best appearance; indeed, our self-assurance and esteem suffers if we feel we have a less than pleasing smile. Adults who improve their smiles through orthodontics typically see a rise in confidence and an improvement in life attitudes that can have a positive impact on their social, career and financial development.
But there is another reason: as a general rule, misaligned teeth do not function as well. Biting, chewing and speaking may be more difficult. Over the long-term misaligned teeth and the resulting poor bite can have an adverse effect on nutrition, social skills and normal tooth wear.
What's more, misaligned teeth are more difficult to clean even with conscientious daily hygiene. Despite your best efforts, this can lead to increased plaque that causes tooth decay and periodontal (gum) disease. In regard to gums, misaligned teeth may be more prone to receding gums which further exposes teeth to harmful bacteria. Realigning teeth can vastly improve dental hygiene.
As with considering any dental procedure, the first step is a complete dental examination to measure the level of misalignment, as well as the current health of your teeth and gums. After that, we can discuss your orthodontic options for not only correcting your smile, but improving your oral hygiene which can have a pronounced improvement in your oral health as well.
If you would like more information on the benefits of orthodontic treatment, please contact us or schedule an appointment for a consultation. You can also learn more about this topic by reading the Dear Doctor magazine article "Why Straighten Teeth."
By Crestwood Dental Group
April 27, 2013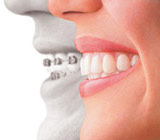 Compared to traditional braces, orthodontic clear aligners seem miraculous in many ways, almost too good to be true. You may be wondering if they really work. The answer is yes — but they are not for everyone.
What are orthodontic aligners and how do they work?
Clear orthodontic aligners are an alternative to traditional braces that are used to move your teeth and transform your smile without much interference to your daily life. They are removable trays made of a clear plastic material that is essentially invisible.
When using aligners, a sequence of slightly different trays is custom-made to fit over your teeth. You must wear each one 20 hours a day for two weeks before changing to the next in the series. The aligners are computer generated, designed by state-of-the-art techniques based on models and images of your own teeth. They work because slight changes in the sequential aligners gradually shift your teeth. If they are worn consistently, the process takes from six months to two or three years.
Advantages over traditional braces are:
The aligners can be removed for eating, drinking, brushing, flossing and social occasions.
They have no rough edges or wires, making them more comfortable.
Changes become visible quickly as your teeth move into their new, better positions.
Clear aligners are a good solution for correcting mild to moderately crowded or incorrectly spaced teeth. They are most effective if your back teeth already fit together properly. Clear aligners are usually effective in correcting simpler or tipping movements of teeth in two dimensions. For more complex movements, traditional braces may be required. Clear aligners are usually recommended for adults whose teeth and jaws are fully developed, and not for children.
When do you need traditional fixed braces?
Traditional braces are fixed brackets attached to the teeth through which narrow, flexible wires are threaded. They may be necessary if your teeth do not meet properly, creating too much overbite or underbite. Closing spaces where teeth are missing, rotating teeth, or other complicated situations probably make you a better candidate for traditional braces.
Each particular situation is unique. To find out if clear aligners are right for you, make an appointment with us for an assessment and diagnosis of your own situation. For more information see the Dear Doctor magazine article "Clear Orthodontic Aligners."
By Crestwood Dental Group
February 15, 2012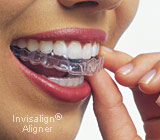 For adults with a reasonably well fitting bite, but mild to moderate crowding or spaces between your teeth, clear orthodontic aligners can be an ideal solution for straightening your teeth. This is why we offer this treatment option to our patients experiencing these issues. However, for those of you who are unfamiliar with what they are or how they work, this will give you a brief understanding.
Clear orthodontic aligners consist of a series of clear "trays" that fit snuggly over all teeth to slowly shift them into alignment. Patients are typically required to wear them 20 hours per day for about 2 weeks before progressing to the next tray. With each new tray, you are one step closer to achieving your goal of perfectly aligned teeth. The entire process usually lasts 6-18 months depending on how much movement is required to achieve the goals.
Each aligner is individually made from very precise molds of the patient's teeth to ensure proper fit. And we map out the entire alignment process using computer generation from each patient's initial molds so that we can identify the number of trays required. But best of all, clear orthodontic aligners are perfectly smooth with no rough edges like traditional braces, and you can remove them for eating, brushing, and flossing teeth as well as for brief social events.
To learn more about this topic, read the article "Clear Orthodontic Aligners." Or you can contact us today to discuss your questions or to schedule an appointment.